The Board of Trustees of the IDeaL Education Foundation welcomes you to our official website.
The IDeaL Education Foundation is a nonprofit, community-based educational and charitable organization with 501(c)(3) designation. Since 1992, the Foundation has worked to support the educational and social development of communities throughout Chicago.
The IDeaL Education Foundation aims to enhance the well-being of our communities via educational and leadership development, while also promoting civic engagement. The Foundation collaborates with private and public philanthropic, corporate and community organizations to build individual, family and community capacity among the recipients of its programmatic thrusts.
Please follow the IDeaL Education Foundation on Facebook, or sign-up to receive our e-newsletter for updates on our programs and events.
Join Boy Scouts Today!
Meetings on Monday's at Franklin Elementary, 14701 Chicago Rd in Dolton, 7:15 – 8:30 PM PM. Grades 1-12 are welcome! Kick-off Meeting: Monday, Sept. 16 at 7:15PM. For more info contact Frank Brown at 708-769-1457 or Gloria Atwood at 708-738-5413.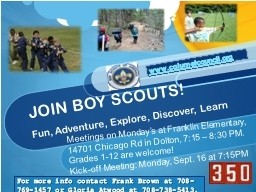 Thanks for visiting!